Ranking DPRK delegation returns to home country after visiting ROK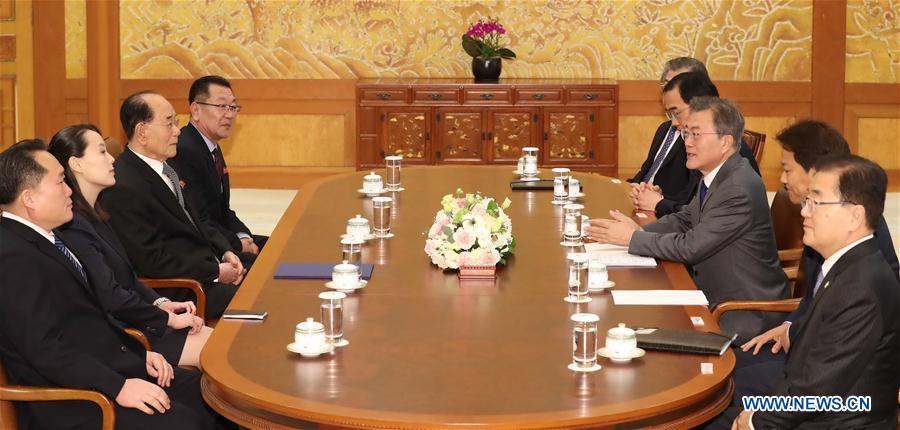 SEOUL - A high-ranking delegation of the Democratic People's Republic of Korea (DPRK) returned to its home country on Sunday night after making a three-day visit to the Republic of Korea from Friday, according to a pool report.
A private jet carrying the delegation left for the DPRK at about 10:24 pm local time (1324 GMT) from the Incheon International Airport on the outskirts of the ROK's capital Seoul.
At the airport, the ROK's Unification Minister Cho Myoung-gyon saw off the delegation, including Kim Yo-jong, the younger sister of top DPRK leader Kim Jong-un who serves as the first vice director of the Central Committee of the ruling Workers' Party of Korea.
The DPRK delegation was led by Kim Yong-nam, president of the Presidium of the Supreme People's Assembly. Two other high-level delegates were Choe Hwi, chairman of the National Sports Guidance Committee, and Ri Son Gwon, chairman of the Committee for the Peaceful Reunification of the Fatherland.
On the first day, the DPRK delegation attended the opening ceremony of the 23rd Winter Olympics held in the ROK's eastern county of Pyeongchang.
They met and lunched with ROK President Moon Jae-in on the second day at the presidential complex.
During the meeting, the DPRK leader's younger sister delivered Kim Jong-un's invitation for President Moon to visit Pyongyang at Moon's convenient time.
Earlier in the day, the DPRK delegates lunched with ROK Prime Minister Lee Nak-yon and other government officials and experts from the South Korean side.
They watched a concert performed in Seoul by a 140-member DPRK art troupe to celebrate the Winter Olympics, together with President Moon on Sunday night before returning back to their homeland.
ctr-silicone-bracelets